Guide Fornite for Beginner's
|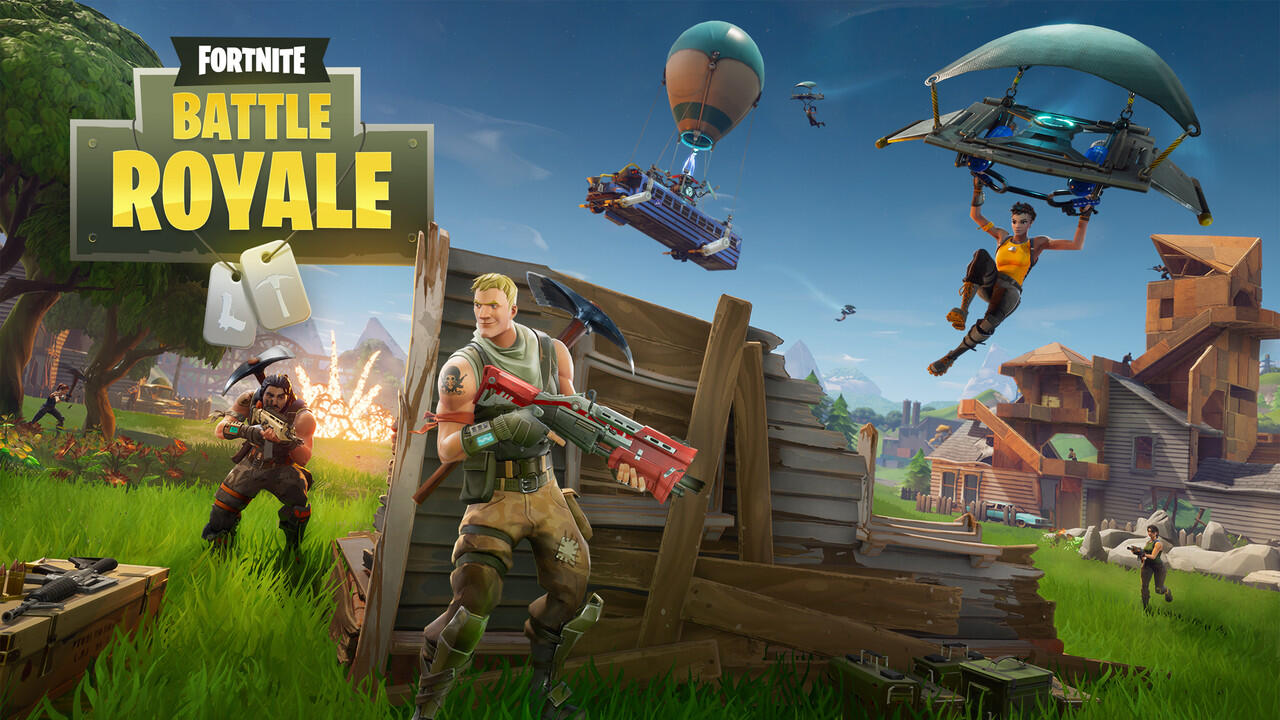 General overview
Before we head into the real meat of our Battle Royale guide, it's probably worth providing an overview of how the game actually works, and what its win-conditions are. If this is all a bit old-hat to you – and you're just after our main guide, skip to the next section. If you want to know what all the fuss is about though, here's the lowdown:
Battle Royale is a new game mode built on the core foundations of Fortnite, a co-op survival sandbox game from Epic.
It is being provided as a standalone, free to play game. Anyone who purchased the game in its original, pre-release form will be refunded.
Although it's entirely free to play, you can also choose to purchase premium editions of the game which grant you exclusive cosmetic items, EXP boosters and the like.
Battle Royale 100 players into a single map, and the challenge is to survive long enough to emerge as the last-man-standing.
Currently there is only one map, but Epic hasn't ruled out that another may be on the way in the future.
You can play solo, duo or in a squad with up to 3 other friends.
Players begin with nothing, and everyone starts off in a flying bus that travels across a map. You choose when to parachute out, and once you've landed your immediate objective is to start looting materials, weapons, ammunition and shields in the game world. (Eliminating enemy players and pinching their stuff having done so is another great way of gearing up!)
There is a crafting component, which allows players to use their gathered resources in order to build defensive structures, or stairs to traverse steep surfaces. Certain materials are stronger, however, and so provide better protection than others.
To prevent players from simply hiding away somewhere nice and obscure and dodging combat altogether, a mechanic called The Storm Eye shrinks the circular playable area over time. Players who do not move into the new playable zone will take damage and quickly die. The idea is that, over time, the remaining playerbase gets pushed into an increasingly claustrophobic play space.
Unlike PUBG, Fortnite doesn't feature any vehicles.
Epic regularly features Limited-Time Game modes that mix up the traditional Battle Royale formula.
Every week the game is updated with Weekly Challenges that players can complete to earn in-game cosmetic rewards.
There's an Item Shop where players can purchase new Pickaxes, Outfits and more.
 Beginner's guide
Before you doing pretty much anything else, take a look at this awesome video from Skill Up, which goes into detail about some general tactics that you should look to employ when playing Fortnite Battle Royale. If you find it useful, be sure to give the video a thumbs-up and consider subscribing to the creator's channel.
Here's a quick snapshot of the key points that are outlined:
– In the opening stages of a match, it's vital that you try to grab as much loot as you can physically get your hands on. You want weapon options and building resources at this stage, and lots of the latter.
– When it comes to weapons, the most important items to target for your collection are a Shotgun, and Assault Rifle and a Sniper Rifle. These three fundamentals are an excellent starting point for your arsenal. These will set you up nicely for the rest of the game and are the perfect tools to cause some pain at any engagement range (expect them all!)
– There are different kinds of Sniper Rifle, however, and so try to keep in mind that you'll ideally want to prioritise getting a Bolt-Action version of the weapon. Although these weapons can be less forgiving if you're unsteady with your aim, if you manage to land a shot with one you'll be laughing all the way to the next storm circle. These things pack an incredible punch!
– Try and burst fire automatic weapons as you'll be far more accurate. Wildly spraying at opponents won't guarantee you land every shot! Focus on accuracy and control when gunning down an enemy.
– Aim to minimise deaths, not maximise your kill count when starting out in Fortnite: Battle Royale. Of course, it's good to chase fights to learn the game, but don't focus entirely on your kill-death-ratio.
– Be careful when looting enemies. Take an extra second to look around and ensure you're safe to secure your goodies.
– Remember that almost every structure or object in Fortnite: Battle Royale can be destroyed. Walls, trees and anything you build can be shot down by opponents. Avoid sticking in one position for too long and use this destructability to your advantage.
Here are the items you should try to get your hands on in order of priority.
Shotgun
Assault Rifle
Sniper
Meds
Shield
Everything else is luxury and will help you win the game, but these are the core fundamentals of a winning strategy. We'll make a final note here though about Rocket Launchers. These can be very useful for taking out late-game bases in particular, but in the earlier stages of a match these should sit somewhere further down the shopping list.
 Movement and environment
If you're a PUBG player, then you're going to need to start retraining your brain when it comes to thinking about traversal. Don't forget, after all, that you can now build stairs and get up sloped areas quickly that way. It's a new meta to learn, and you need to start getting used to these mechanics mmediately.
Don't forget that you can place walls anywhere, something that can be very useful if you're taking heavy fire and want to gain the upper hand. Always be thinking about your vulnerabilities – and your escape points – and how you can swing the tide of battle back in your favour when you find yourself under pressure.
Remember too that you are at a huge disadvantage whenever you push into a building. The person inside (if there is one) is going to know where you're coming from, and although they can hear you coming, you can't see their exact location. If you know someone's inside, wait for them to come out of the building instead and catch them by surprise, rather than stalking them through the interior.
Alternatively, use those building materials you've gathered and create a structure that wraps around the building they're in. At that point, you can stake them out from above and effectively turns the tables on them, without putting yourself in a particularly vulnerable position.
 Map strategy
There are two winning map strategies that rhinocrunch recommends every player pursues in Fortnite: Battle Royale.
The first is built around the concept a big kill strategy. In this approach, you play the edge of the map, waiting for players, rotating with the circle and pick off enemies as they race towards the next playable area. It takes a lot of skill and a little bit of luck to pull this strategy off, but it's definitely viable.
A more reliable strategy has you rushing the centre of each new circle immediately, and from there just try to stay ahead of every other player. Once you're in position, you can start taking advantage of your early knowledge of terrain, and plan out your vantage points accordingly.
This strategy ensures you avoid entering the new circle from a bad angle, where you can get picked off pretty cleanly by a savvy opponent. Instead, and if you just rush the centre, you get to see the whole playing field: what's a good spot, what's a bad spot? You'll have time to set up a base before the enemy arrives as well.
In terms of positioning, high ground is always your friend. It provides you with a superior vantage point that's hard for your enemy to retaliate against, and it also allows you to flee the fight if you're not confident it's going to go your way.
Again, always remember that you can craft your way up sharp slopes extremely quickly if you need to get away, or you want to establish a fantastic camping position.
While traversing the map, listen carefully to your surroundings. There are loads of visual and audio cues to help you gain crucial intel about where someone is. If you think someone is around you, then crouch because it'll muffle your footsteps. You can then use the positioning of the enemy's sound to pinpoint their location and prepare your devastating ambush.
We've got a handful of very useful guides which will help you get on top of your surroundings much more quickly. Take some time out to study the following articles, as they'll really help you get ahead of the pack:
Chest Map / Loot Map – How to find every chest on the map in Fortnite: Battle Royale
Map locations – A guide to what to expect from every spot on the Fortnite map.
Map update guide – Rolling updates on every change and addition that's made to the in-game map.
How to land faster – It's possible to hit the ground much faster than the other players and gain a big advantage!
 Resources
Try to keep enough resources about you at all times so that you can at least build an emergency wall. Don't get caught out in the open without enough resources in your backpack to build an emergency shelter if it's needed. In an ideal world, you should aim to have around 300 of each resource on you at any given time.
We can't stress the importance of resource gathering enough! It's easy to focus all your attention on chasing kills and bagging the strongest weaponry in the game, but building materials are invaluable, and only become increasingly precious as each match wears on.
You don't want to be in a position where you can't build a structure under pressure. Whether you need to quickly create a set of ramps to flank an opponent, or panic-construct some walls to take cover behind, if you don't have the resources to do so, you're putting yourself at a major disadvantage.
As a general rule of thumb, wood is great for quick builds, but stone and metal are brilliant for building a sturdy late-game fort.
Controls
It goes without saying that it's incredibly important that you can lay your hands on what you need without even thinking about it. Those who have to fumble around for weapon slots are unlikely to grab that elusive number one spot. That means mastering the controls so that muscle-memory alone gets you what you need, when you need it.
Some of our most popular articles explain the ins and outs of the control systems in Fortnite: Battle Royale, and they'll also help you tweak some of the settings to achieve optimal performance in the game!
Keybinds and keyboard controls – How to optimise your keybinds and keyboard settings on PC.
Mouse sensitivity guide – Tweak your mouse settings to achieve the perfect aiming setup.
How to drop weapons and items – Free up inventory space in a flash so you can grab that next awesome upgrade.
Controls for PC, PS4 and Xbox One – A handy reference chart for the control systems on all the major platforms.
How to dance – Look flashy in the aftermath of every firefight with our guide to busting a move!
Source: Metabomb