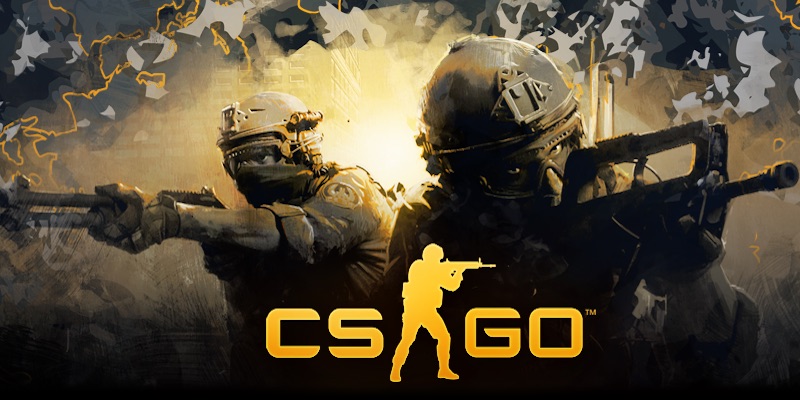 Counter-Strike: Global Offensive is a first-person-shooter (FPS) released in the year 2012 with many vastly different game modes, either implemented by Valve or the prospering community. These range from a game mode in which you have to work your way through a variety of weapons to get the golden knife and end the game with a knife kill, which is called Arms Race, to a game mode which is based on the possibilities of Counter-Strikes engine where you slide around on ramps in order to finish the course as fast as possible, known as Surf. The most prominent and important game mode, however, is competitive, in which you either have to destroy one of two or secure both bombsites, with a role switch after 15 rounds.
This guide will aim to help you to understand this easy to understand, but hard to master game with one of the most successful and ever expanding eSports scenes.
Counter-Strikes History:
Counter-Strike has now spanned over four games, Counter-Strike: Global Offensive now being the fourth game in the series. Especially CS 1.6, the first CS game, already had a big community and E-sports scene. CS: Source was not quite as big, and Counter-Strike: Condition Zero was mainly known for his single-player elements.
When Counter-Strike: Global Offensive first came out, it was clear that a lot of tweaking had to be done, with which Valve quickly started. Valve soon realized that the competitive scene would need a small guiding hand and they gave the scene exactly that when they implemented the Major Tournament system in 2013, Fnatic being the first team to win a Valve sponsored event with, at that time, 250 thousand dollars in the prize pool. The prize pool of the ELEAGUE Major has reached one million dollars, and it may increase in the future.
The Game:
Counter-Strike: Global Offensive is based on the source engine and was developed by Hidden Path Entertainment and Valve Corporation. It is playable on PC, Xbox 360 and PlayStation 3, with PC being the most prominent platform to play it on and even though Cross-Platform play was planned originally this plan was scrapped later on.
Customization:
One of the key aspects of Counter-Strike is how you get better. It is not the character you play, which changes from round to round anyway, that gets better weapons and better skills, but it is your aim, movement and other aspects of CS that you have become better at. Part of investing a lot of time in a game with basically no automatic reward for the number of hours you spent to get better is customization so you can feel comfortable playing this game, and Counter-Strike: Global Offensive does a good job of letting you customize your game.
The following sections will show you how you customize your game. This is not crucial for you to play for the very first time, but can help you to feel comfortable and will show you how you can adjust your sensitivity of your crosshair. If you want to know more about the mechanics and gameplay, you can skip to the paragraph "Fundamentals".
Options:
The option menu can be found on the main menu or when you press ESC inside of a game you are playing at the moment. There are multiple tabs you can click on.
Controller:
This tab will open a menu for your controller, if you want to play with one. You can customize the sensitivities of your thumbsticks, the way you look around and the key bindings to help you navigate through Counter-Strike: Global Offensive. I don't think it is advisable to play with a controller, as Counter-Strike: Global Offensive puts a lot of emphasize on aim and movement, which is better done with mouse and keyboard.
Keyboard/Mouse:
In here you can basically do the same you could do with your controller, but with your keyboard and mouse. You can set your sensitivity (how fast you look around in the game), zoom sensitivity(the same, but for scoped weapons), and look through and customize your key binds to your keyboard/mouse. I would advise you to not to use mouse acceleration, as it is highly inconsistent and not reliable enough for you to ultimately get used to the acceleration. You can further customize your mouse and keyboard settings in this tab.
Game Settings:
In this tab, you have the option to change your maximal acceptable ping, bandwidth, first customizations to your viewmodel (the way you see your hands and weapons you are holding in-game) and crosshair, you can tweak your GOTV viewer experience and so on. You can try all of them out over time to find what suits you.
Video Settings:
Here you can tweak the video settings of your game and decide how it is supposed to look. You can adjust the brightness, color mode, aspect ratio and so on. You can change the visual quality if you want it to be lower or higher than it was originally, perhaps to get more frames per second or something similar. Here you can also change your HUD size, which will display your weapons, health and other useful information.
Audio Settings:
This tab gives the possibility to tweak your audio out- and input. You can change the volume of multiple things, like the overall volume, voice volume and so on. You can also choose your audio output configuration, and in general choose between HRTF, an advanced virtual surround system that helps you spot enemies and other sound sources near you, and the normal stereo output. HRTF may be a bit more demanding on your system, as has been reported by some users.
Source team-dignitas.net