Gili Labak which people used to call it with Tikus Island is located in Sumenep regency Madura Island East Java. Gili or in other terms The island is indeed identical with the area of Lombok which all its name uses the word Gili. Well somehow in Madura there is one of the islands that are named with Gili namely Gili Labak. The island has an area of about 5 hectares of this can be surrounded by just walking approximately approximately 30 minutes just loh. The island is so beautiful and exotic is now inhabited by about 38 families.
Madura Beach Gili Labak is a new and still hidden tourist attraction, so it has not been widely known by tourists. Just like other island tourism, this place also provides many things that can be observed and used as learning materials and entertainment. The place is still natural, beautiful, and clean, making Gili Labak Beach a great place to cool off from all the noise and hustle and bustle of working activities in the city.
The stretch of white sand and blue ocean with gentle waves make Gili Island is very worth visiting. Having a fine white sand and about 50 meters before anchored on the beach will be greeted with sea water beningya make you can enjoy a cluster of coral reefs are very beautiful.
The beauty of this island is from the sea water is very clear. In addition, the white sand in Gili Labak is very soft and very white. Sand on the beach is arguably different from the sand on other beaches. In every corner of the island, tourists can enjoy the views of the vast ocean. Blue sky combined with blue ocean will be a magnet for tourists to be able to return again in the future.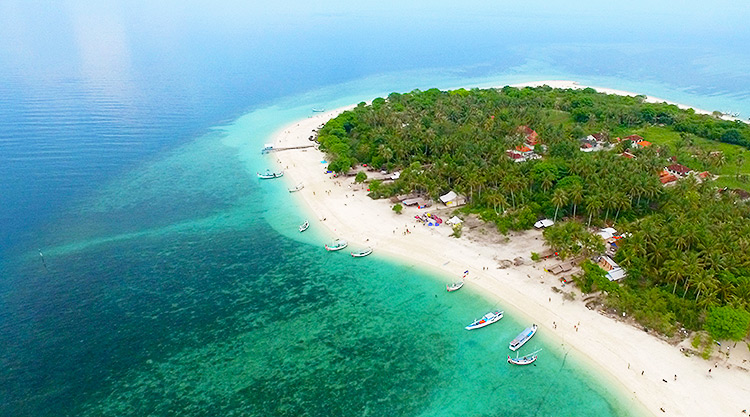 Snorkeling in Gili Labak
Several hours of the trip would be paid with the blue sea scenery, white sand, and coconut trees nearby the beach. When the boat lies at the shore, you can relax and enjoy the scenery around Gili Labak.
There are lots of things that you can do in Gili Labak. If you love underwater adventure, you should try snorkeling in the sea.
The scenery is really amazing. The waves are tranquil enough and safe for the visitors. Photography lovers would be spoiled by its stunning scenery.

Access to Gili Labak
It takes 4 – 5 hours from Surabaya Bungurasih to Sumenep. The bus will arrive in Sumenep at 5 AM. Do not be afraid and worry because the bus will stop nearby the Kalianget harbor which takes you to Gili Labak.
When you arrive at Kalianget harbor, there will be several local operators which offer you Gili Labak package trip. They offer various trips such as one-day tour package and overnight package tour. So, visitors wouldn't spend much money to rent a motorboat by themselves. It takes 2 hours to get to Gili Labak from Kalianget harbor by boat. You just need to spend IDR 70.000 for the cheapest round-trip boat and snorkeling equipment rent in one package.
The best time to go to Gili Labak is around 7 AM. Do not forget to have breakfast before. Make sure you bring enough food and drink in your bag for your supply in the island. When you head to Gili Labak, you will see a view of an island which is often visited by people.