Banyuwangi Blue Bay is a marine tourism park that has the beauty of the air and stunning panorama of the ocean floor. The atmosphere in this bay is still very natural, both sea air and its location. No wonder if the color of the sea air is very clear, and the name of the Blue Bay itself backdated by the clarity of the water that appears bluish blue.
Not many travelers who know about the existence of this hidden Paradise in Banyuwangi. Whereas if it can be said, the exotic of Teluk Biru is worthy to be aligned with other popular places of interest such as Teluk Ijo, Red Island, and Kawah Ijen. This tour is very fitting for those who like the hobby of diving, because by diving into the seabed, the snorkeler can see the beautiful of its marine ecosystem very clearly. The calm waves and beautiful coral reefs make tourists who visit this place feel at home and want to linger long.
Activities that can be done when visiting the Blue Bay, among others;
Snorkeling
Diving
Swim
Sailing by canoe boat (Canoeing)
Water ski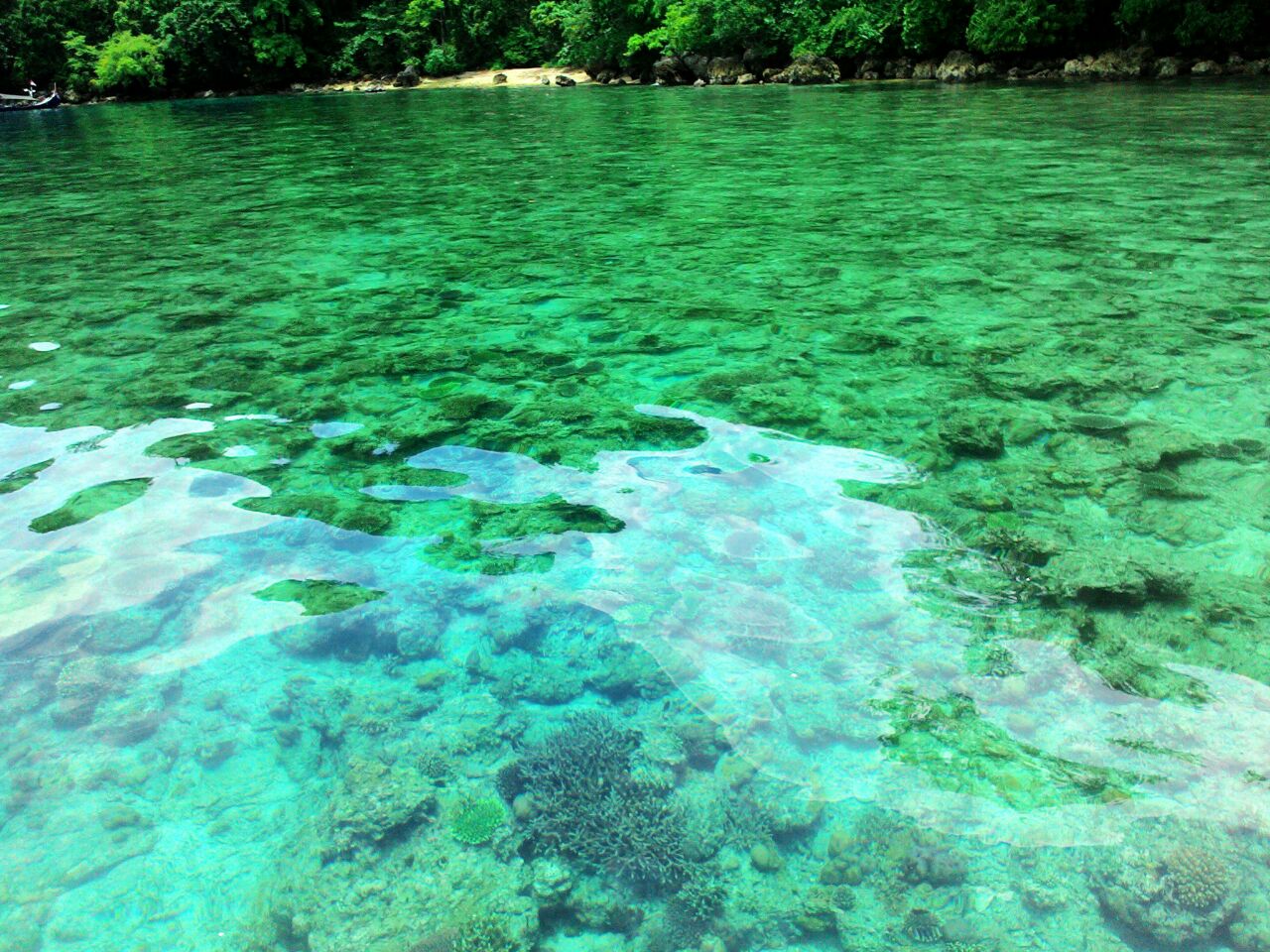 If you like to hunt fish, you can bring fishing gear and net from home. Because other than as a tourist attraction, Blue Bay is also a place for fish fish gathering. Not a few fishermen who managed to bring home many fish from this Sea every day.
In addition to enjoying the panorama around the bay, every tourist who visits also have the opportunity to see the beauty of Sunrise at dawn. Given the location of the Blue Bay is a little far and travel time long enough, tourists must leave at 02.00 am in order to see this sunrise. If leaving during the day, then arrive at the location can not see the sunrise anymore because the sun has moved upward.

Location Blue Bay Banyuwangi
Banyuwangi Blue Bay is still within Alas Purwo National Park, located behind the Sembulungan peninsula, precisely located in the district. Muncar, Kab. Banyuwangi, East Java.
Tips: The Blue Bay is better known by the name "Senggrong" by the locals. So, if you want to ask the locals the way to the location, you should ask the location of "Senggrong", because if you say Blue Bay, not many locals understand by that name.
Route / Access to Blue Bay
Currently there is no public transportation that operates to tourist sites. The only alternative that can be done is to bring a personal vehicle or use the Travel Service, with the following routes:
Kab. Banyuwangi => Kec. Muncar => Blue Bay
In addition, every tourist visiting this beach must rent a boat, given the absence of land transportation to the Blue Bay.
Boat rental fee: Rp. 300.000 s / d Rp. 500,000
Source: tabloidwisata.com